Colorado Family Law Attorney
Plog & Stein P.C.
At Plog & Stein P.C., we provide sensible and strategic legal solutions to clients throughout Denver, Colorado and the surrounding areas.  We focus our practice solely on family law and have the knowledge, experience, and commitment to meet our clients' legal needs, no matter the circumstance. Let us put our skills to work for you. If you find yourself facing family legal issues, whether it be a divorce, custody or child support case, the Denver family law attorneys at Plog & Stein, P.C. can help.  We understand that family law matters are often complicated and emotionally stressful. Our only goal is to make the legal process unfold as smoothly as possible for you as we strive for the best possible outcome. Whether in the courtroom or negotiating settlement, we understand what's needed to provide you with the quality legal services that you deserve.
Why Choose Plog & Stein P.C.?
Choosing the right attorney is the first, and often, the most important step in any family law case. Plog & Stein, P.C. is a full-service law firm dedicated to achieving the best possible outcome for each and every client we represent. Founded in 1999, our firm has decades of combined legal experience. We have helped thousands of clients from all Denver area counties, many of whom have continued to seek our help well past their initial divorce or custody case. We believe in the importance of building lasting relationships and are able to do so by providing solid and result-oriented representation. We keep on top of the law, courts, and courtroom procedures. Resolving complex financial, legal, and child-related issues is an every day part of the job we do and the services we provide. As seasoned litigators and negotiators, we know what's fair and the difference between a good offer and one favoring the other side. As your advocates and guides through the legal system, we know what's needed to fight for you, the client. At Plog & Stein, P.C. our Colorado family lawyers are committed to providing:
Strategic case planning and thorough analysis of your case
Solutions tailored specifically to your circumstances
Exceptional courtroom and negotiation advocacy
Realistic advice during all stages of your case
Effective and efficient representation, with reasonable retainers and hourly rates
Accessible attorneys and open lines of communication
We Handle Different Types of Cases
Our attorneys are experienced in all aspects of family law, both simple and complex, including:
Why Do You Need a Lawyer?
While it is possible to handle certain issues without an attorney, the process is not always simple. In fact, family cases can be very complex and contentious.  It's not uncommon for people to become overwhelmed quickly when dealing with unfamiliar statutes and procedures. That's where our Colorado family law attorneys come in. Hiring the right lawyer to represent you can help protect you and your family's interests and secure your assets and financial future as you move on to the next chapter of your life. Doing so early on in your case increases the chances of a more favorable outcome. It also provides you with peace of mind in knowing you will be treated fairly throughout the legal process. Through hard work, preparation, and a sense of pride in serving our clients, we will be there for you when the time comes to resolve your family law matter. Contact us now to speak with a member of our law firm!
We also take great pride in handling family law cases in an honest and logical manner. We believe that our analytical approach allows us to better meet the needs and expectations of our clients. Having a complete understanding of each client's unique situation allows us to better serve them and to provide the guidance and insights needed for them to make important and lasting decisions about their futures and those of their children.
Request a consultation

here
Awards & Honors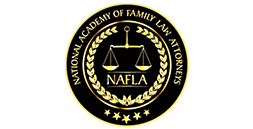 Family Law
In Colorado, family law is outlined in several sections of the Colorado Revised Statutes, most notably in C.R.S. Title 14, which covers key subjects, including:
Divorce: The attorneys at Plog & Stein, P.C. are skilled in dealing with all aspects of divorce, including the division of complex marital assets, such as real estate, investments, business interests, and more. Divorces can be both contested or uncontested, depending on whether all substantive issues are agreed upon. Colorado is a no-fault divorce state, meaning grounds for divorce do not need to be proven. To obtain a divorce, at least one of the spouses must have resided in Colorado for 91 days prior to filing. We also deal with legal separation and dissolution of civil unions. Regardless of your marital circumstances, we can help.
Parenting Time and Child Custody: Custody cases come in many forms. Whether you're dealing with custody issues as part of a divorce or going through an allocation of parental responsibilities (custody) case, the ultimate conclusion can have a lasting impact regarding both the parenting time you have with your children and your legal right to make major decisions for them. Given the focus most parents place on their time with and the well-being of their children, we recognize how important child custody matters are to our clients. Some cases are more complex than others and may require input from an outside expert, such as a child and family investigator. Our Colorado family lawyers understand what it takes to effectively litigate or negotiate your custody case, both in and outside of the courtroom. We also deal with modifications of visitation time and enforcement of orders. Let us help you obtain custody orders in the best interest of your children.
Marital Asset Division: The divorce attorneys at Plog & Stein, P.C. understand the nuances and importance of dividing the marital property accumulated over the length of your marriage.  In any case, the key to asset division is determining first what property is marital, secondly the value of the various items, and thirdly a sensible division plan comporting with both our clients' wishes and divorce law. Over the years, we have effectively helped our many clients with both simple and complex asset division in their divorce. Not all property is valued or divided the same. For example, the valuation of a stock account is vastly different from valuing a pension plan. Valuing a business interest can be much more involved than determining a fair value for any marital real estate. At times, valuation and division may require the use of appraisers or other experts. At each turn, we will be there for you, with solid advice and sound advocacy. If agreements can't be reached regarding dividing your marital property, we'll be there for you in the courtroom as well.
Spousal Maintenance (Alimony):  The issue of alimony will need to be dealt with in each divorce case. When both spouses have roughly similar incomes, it's unlikely that either will be entitled to receive spousal maintenance from the other, and the issue should be dispensed with quickly. However, when there is a significant income disparity, an award of alimony may be appropriate. Pursuant to Colorado statute, in divorce cases in which the parties' combined income is $240,000 or less, the court is likely to employ a statutory formula to determine an appropriate amount of spousal support. When the incomes exceed the $240,000 cap, factors such as standard of living, expenses, and more come into play. When dealing with the issue of alimony, our only goal is to make sure our clients are treated fairly, regardless of which side of the equation they are on. Oftentimes, arguments arise tied into income, including as relates to one party being unemployed or underemployed, or what exactly should be included as income for calculation purposes. In addition to resolving maintenance issues as part of the initial divorce, we also deal with both enforcement and modification of alimony orders.
Child Support: In any custody case, the issue of child support will arise. Colorado statute dictates that children are entitled to appropriate financial support from each parent. As such, this is one of the major legal issues each of our experienced Colorado family law attorneys handle on a regular basis. Like cases involving spousal maintenance, income is the most significant factor when determining if one parent will pay child support and what the monthly amount will be. Of course, other factors such as the number of children and visitation time schedule can also have an impact on the support calculation. Beyond determining a monthly amount, child support orders typically require detail regarding other support provisions as relating to medical expenses, activities, tax ramifications, and how and when payments are made. In Colorado, support obligations run until a child turns 19, which often means that there may be one or more modifications of child support based on changes in circumstances that can arise over time. In each case, we use our extensive experience and knowledge of the law to help our clients establish, modify, and enforce their orders.
Contact Plog & Stein, today, to schedule your initial consultation!

If you are facing a divorce, custody, child support, property division or any other family law issue, you need an experienced lawyer on your side. At Plog & Stein, P.C., our attorneys have the experience, knowledge, and dedication to fight for the most favorable outcome possible for you and your family.

We will listen to your story, understand your goals, and help develop a working legal strategy for your individual situation. Protecting your interests and future is our only goal. Call us, today, to speak with an attorney for FREE. We represent clients in Douglas County, Arapahoe County, Colorado Springs, Jefferson County and throughout the Denver metro area.
Request a Consultation

Here
Client Testimonials
His passion and ferocity kept me going through this long ordeal.
When I first came to Plog & Stein it was simply discuss the renegotiation of child support. Little did I know that within 72 hours I would be retaining Steve Plog for a custody battle. I have recommended him to my friends and I would recommend him to anyone with who wants honest and effective representation.
Carolyn
Because of his diligence I was awarded custody of my children.
It was a very long and turbulent custody battle with my ex, but Stephen never gave up and fought very hard on my behalf. Because of his diligence I was awarded custody of my children. My children are doing so amazing and I have Stephen and his experienced staff to thank for that!!
Jennifer
At the end of the day he was able to produce a settlement that was fair to both parties.
I highly recommend Stephen Plog for anyone in need of a top notch domestic relations attorney. Stephen represented me in a complicated and sometimes bitter divorce with many unique challenges... He is smart, cuts to the chase, knows the court system and can be trusted to get his clients the best possible settlement.
Neal